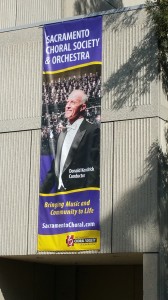 Download the SCSO's 2019-20 Performance Report
The Sacramento Choral Society & Orchestra Board of Directors hopes this finds you well—physically and spiritually. As you are aware, we suspended our 2020-21 live season and we are daily monitoring COVID restrictions that may prevent us from holding our Fall 2021 season.
We look forward to reconnecting once it is safe to do so—and to making beautiful music together again!
The Board and Staff will work diligently to prepare some engaging video offerings that we will share with our members and patrons throughout our upcoming season. We will send more
You may wonder how the SCSO is doing. We've heard questions like, "Will you make it?" With no Chorus dues collected and a drop in donations, we are working hard to pay our bills on time.
2021-22 VIRTUAL DUES REQUEST
To help the SCSO remain financially stable, would you consider making a tax-deductible virtual dues donation to help defray our "hard costs," such as office rent, utilities, phone, insurance, marketing, office supplies, printing, postage and video production, among others?
Two options:

 $90 -Modified Annual Dues – Assumes March & May 2022 concerts will occur
SCSO will underwrite your dues for the December 2021 Home for the Holidays concert if we able to hold it
 $180 Booster Dues
Please consider making a 2021-22 Virtual Dues Donation in one of the following 4 ways:
1. Donate via Paypal, Debit or Credit Card (No Need for a Paypal account) We welcome recurring donations!
2. Scan this QR code (forthcoming)
3. Make a credit card donation by phone (limited hours)
Call the SCSO Office at 916-536-9065 and leave your name and phone number. (Calls will be returned promptly.)
4. Mail a check to the SCSO Fair Oaks office:
Sacramento Choral Society & Orchestra
4025 A Bridge St.
Fair Oaks CA 95628-7581
Thank you for being a valued member of SCSO. Stay safe and thanks for keeping in touch!
With best regards from the SCSO Board of Directors,
Rani Pettis                                 Jeannie Brown              Maria Stefanou
Margot Bach                            Tery Baldwin                 Amanda Johnson
James McCormick                 Donald Kendrick