Dear SCSO Members,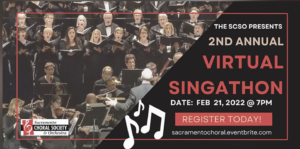 Thanks for your ongoing support as we head in to our 24th month of weathering COVID 19 together. (Whew!)
You will find these files very helpful in promoting and drawing awareness to our Virtual Singathon 2022 via Zoom on Monday, February 21 from 7 PM – 8:15 PM. Register for this FREE event via Eventbrite today!
This year's fundraiser will once again CREATE MATCHING FUNDS FOR OUR BIG DAY OF GIVING ON MAY 5, 2022. Our Board Members, Alumni and Community Friends often help us reach our goal.
HELPFUL VIRTUAL SINGATHON 2022 FILES FOR MEMBERS
Why a Virtual SCSO Singathon?
Virtual Singathon 2022 Pledge Form
Sample Solicitation Letter (Please edit and personalize)
Singathon 2022 Receipt
Make an online donation to the SCSO's Virtual Singathon 2022.
A lot of people love donating via QR Codes . . . Check it out!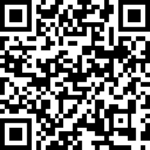 Thanks SO much for your dedication, good spirit and support.